Necrophiliac Who Sexually Abused 99 Corpses Is Jailed For Double Murder
UK Police Arrest Necrophiliac For Double Murder. He Also Admits To Sexually Assaulting 99 Corpses At Various UK Hospitals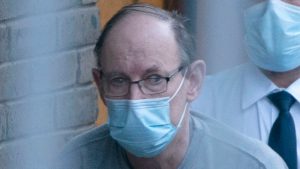 British detectives discovered made a gruesome discovery several weeks ago. They were searching the home of a 67-year-old hospital worker. They were searching the home in connection with the 1987 murder of two women. However, they found hidden computer drives, CDs, and memory cards detailing more horrific information.  They discovered David Fuller was actually a Necrophiliac who sexually assaulted nearly a hundred corpses at the hospitals he worked at.
David Fuller pleaded guilty to the 1987 murders of Wendy Knell and Caroline Pierce. He also admitted to sexually assaulting the corpses of women and children for 12 years.
Detectives found more than 14 million images detailed child pornography. They also found videos of Fuller sexually assaulting dead bodies at hospitals in Kent, England.
Police also said Fuller detailed all the assaults on computer hard drives and handwritten diaries hidden. Each diary and file had detailed information about ages of his victims between 2008 and 2020, Sky News reports that his youngest was a child was nine years-old and his oldest victim was a 100-year-old woman.
Fuller said the necrophilia took place within hospital morgues where he worked as a technical supervisor since 1989. Fuller would work late shifts and go into the morgue when other staff members had left.
Investigators have identified 78 of the detected 99 potential morgue victims that the necrophiliac sexually assaulted. Police say there could be hundreds more.
UK Police have spent $2 million to put recruit 150 family liaison officers to visit the families of Fullers' victims.
Officers delivered the news to Nevres Kemal that Fuller raped her daughter three times after she died.
Soon after, Kemal arrived at the police station to attack Fuller with a knife. Consequently, police arrested her.
A date for Fuller's sentencing has yet to be set.
Check out other crazy stories about sickos on
WaspGirls.com
You can also check us out on 
Facebook!