Maggots Falling From Ceiling Lead NYPD To 2 Dead Bodies
2 Bodies Found in NYC Apartment After Tenant Below Reports Maggots Falling From Her Ceiling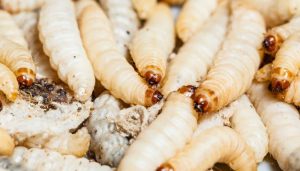 Luz Beriguete called the NYPD last week about maggots falling from her ceiling. However, she never expected the NYPD to find the guesome remains of two people in a Bronx apartment last week.
The NYPD then dispatched officers to the woman's apartment last Saturday. The building is on Creston Avenue in the Fordham section of the Bronx.
Police had to force their way into the apartment. They did not need a warant because they had probable cause. The officers were horrified by what they saw in the apartment.
Uniformed officers of the NYPD found two badly decomposed bodies. One was of a 40-year-old man. The other was a 29-year-old woman in the apartment.
Luz Beriguete told Telemundo 47 in Spanish:
When I woke up I found the living room full of worms. I called the super and told him what was happening. 
Luz Beriguete simply thought her upstairs neighbors had forgotten to take out the trash. However, Beriguete recalled hearing gunshots two weeks ago. So, she decided to call the police after the maggots began raining from her ceiling.
Law enforcement sources told NYC media that they are looking into the possibility that the man and woman died by murder-suicide. However, though the probe is ongoing into the deaths of the two people in the apartment.
The NYPD did rule the woman's death a homicide this past Tuesday. However, the NYPD has released a statement about the cause of death. Police identified the woman as 29-year-old Ashley Ducille. Ducille's body was found in the apartment where she lived.
Police have not released a cause of death of the man.  The NYPD has not yet been able to identify the man.
Check out other crazy stories about sickos on
WaspGirls.com
You can also check us out on
Facebook!