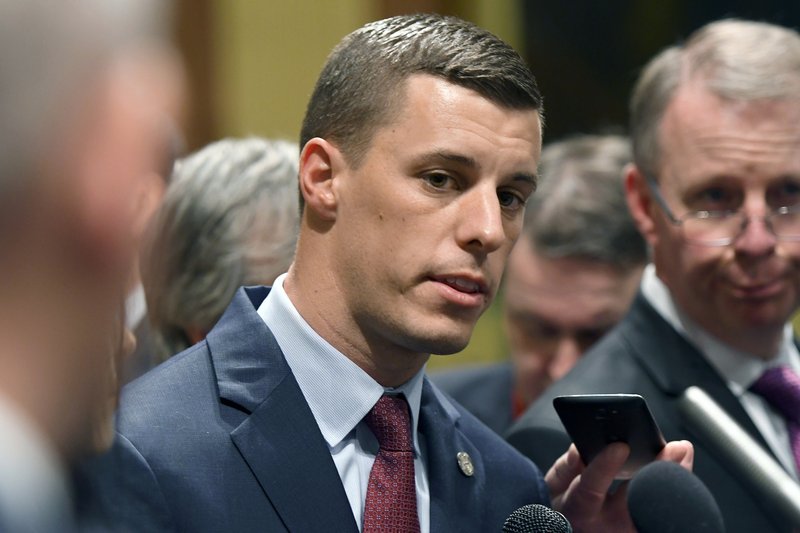 Lee Chatfield: Former Michigan House Speaker Accused Of Rape
Former Bible-Toting Michigan House Speaker Lee Chatfield Accused Of Sexually Assaulting Underage Girl
The sister-in-law of Lee Chatfield has filed a criminal complaint against him for sexual assault. Lee Chatfield is the former Speaker of the Michigan House. The alleged victim initially filed the complaint with the Lansing Police Department. However, the Lansing Police transferred the complaint to the Michigan State Police.
The 27-year-old woman alleges Chatfield began sexually assaulting her when she was 15 years old. The victim claims she attended his church and the associated Christian school. 
Chatfield taught at Northern Michigan Christian Academy School where he met the girl. He was also the men's soccer coach and the athletic director. 
Chatfield's father, Rusty Chatfield is the chief pastor at Northern Michigan Baptist Bible Church. He is also the administrator of the associated Northern Michigan Christian Academy School.
Attorney Jamie White of the White Law Firm in Lansing is representing the victim.
White alleges the sexual exploitation continued until July 2021. Chatfield has been married to the victim's sister Stephanie since 2008.
White previously represented dozens of women sexually assaulted by ex-gymnastics trainer Larry Nassar. He is currently representing men suing the University of Michigan who allege they were sexually assaulted by former trainer Robert Anderson.
White also said there are further allegations against Chatfield. These include accusations related to misappropriation of public funds while he was in the Legislature. 
Lee Chatfield Goes To Lansing
Chatfield won election to the state House in 2014, after defeating moderate Republican Frank Foster. He pounced on Foster during the GOP primary for Foster's support of the LGBTQ community. Chatfield remained a staunch opponent of LGBTQ legal protections during his tenure in the house. 
In the summer of 2018, Chatfield apologized after security at a Northern Michigan airport discovered a loaded handgun in his carry-on bag. He later paid a fine.
Chatfield became Michigan's youngest House speaker in 2019. He could not run for a fourth term in 2020 because of Michigan's term-limit law.
He briefly served as CEO of Southwest Michigan First, an economic development group in the Kalamazoo area. However, controversy over his anti-LGBTQ politics led him to resign the position last February.
Where's Is Lee Chatfield's Wife Stephanie? 
Lee Chatfield married his wife Stephanie Zondervan in 2008. Both claim to have been high school sweethearts. The couple now have five children.
Lee Chatfield introduced sweeping anti-abortion legislation on the house floor in 2016. As a result, this thrust Stephanie Chatfield into the spotlight over an abortion she had in high school.  
Stephanie Chatfield decided to discuss her abortion publicly after she says an unnamed person threatened to out her secret. 
Since then, she has been absent from the public eye. She has also been silent about the recent allegations against her husband.
Stephanie Chatfield's current residence and whereabouts are unknown at this time.
Chatfield Isn't The Only Sicko In The Michigan GOP:
Michigan GOP Rallies Around Convicted Pervert With Bizarre Sex Fetish
Former Michigan House Leader Allocates $250,000 In Hush Money To Porn Addict From Michigan Taxpayers
This article originally appeared on MFI-Miami on 1/7/2022
Also, check out other crazy stories about sickos on

 WaspGirls.com
You can also check us out on

 Facebook!