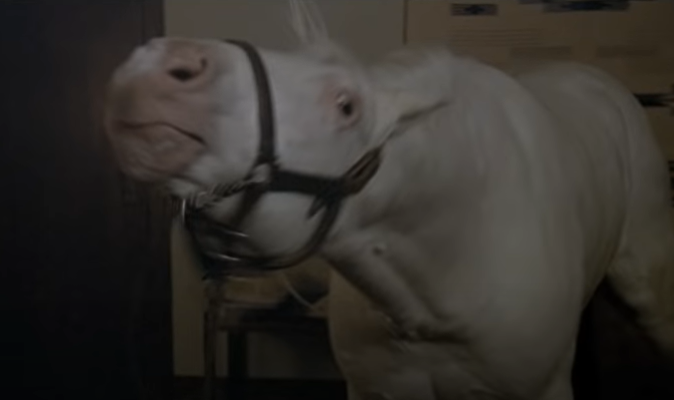 Accused Horse Rapist Escapes Jail In Colorado
Accused Horse Rapist Jonah Barrett-Lesko Escapes Jail In Colorado
Accused Horse Rapist Jonah Barrett-Lesko was hunted down and captured by law enforcement officials Tuesday. Barrett-Lesko after he escaped a Durango, Colorado jail. Colorado authorities had him locked up on trespassing charges stemming from a string of robberies.
Police apprehended him in a nearby creek in his underwear.
Shoppers at nearby Home Depot spotted Barrett-Lesko rushing by the store wearing a jail uniform, As a result, Durango police began their manhunt. At some point during the pursuit Barrett-Lesko shed his jumpsuit. As result Barrett-Lesko was fleeing from police in his tighty whiteys. This made him easier to spot by police. It also made it easier to apprehend him.
Police said there's video of him climbing a wall of the jail and escaping through a hole in a fence.
Police arraested Barrett-Lesko in late spring of sexually assaulting a horse at the La Plata County Fairgrounds.
The horse's owner caught Barrett-Lesko sexually assaulting the animal. The horse's caretaker had a camera in the animal's stall connected to his cell phone.
After his arrest, Barrett-Lesko posted bail for sexually assaulting the horse. As a result, he was a free man.
Police arrested Barrett-Lesko again. Authories accused him of stealing a half-dozen bicycles. They also accused him of breaking into a car and shoplifting.
Barrett-Lesko pleaded guilty to felony burglary last month. He was awaiting sentencing when he escaped. Colorado media reports that he was looking at a sentence of up to five years in prison. He now also faces a felony escape charge.
Durango Police Chief Bob Brammer was one of the officers who got his uniform wet luring Barrett-Lesko back into custody. Brammer called the suspect a "prime example" of someone who needs to be in jail.
Check out other crazy stories on WaspGirls.com
You can also check us out on Facebook!